Our Industries: A System of Success

Location: Our Secret Weapon
Jerome City and County are centrally situated in Southern Idaho, midway between the cities of Boise and Idaho Falls and north of Salt Lake City. 
Unbeatable freeway access.
The Jerome area offers premier, countywide connections to the I-84 corridor — including the U.S. Highway 93 interchange, which at over 40,000 vehicles per day is one of the busiest in Idaho. U.S. Highway 93 extends from Mexico to Canada and is intersected by I-84, offering vast opportunities for transportation. A new interchange at Exit 168/South Lincoln, slated to open in 2024, will make it even easier to access.
From here, it's also an easy drive to some of Idaho's most celebrated destinations, including Sun Valley, the Boulder-White Clouds Wilderness, the Frank Church-River of No Return Wilderness, and the Sawtooth National Recreation Area.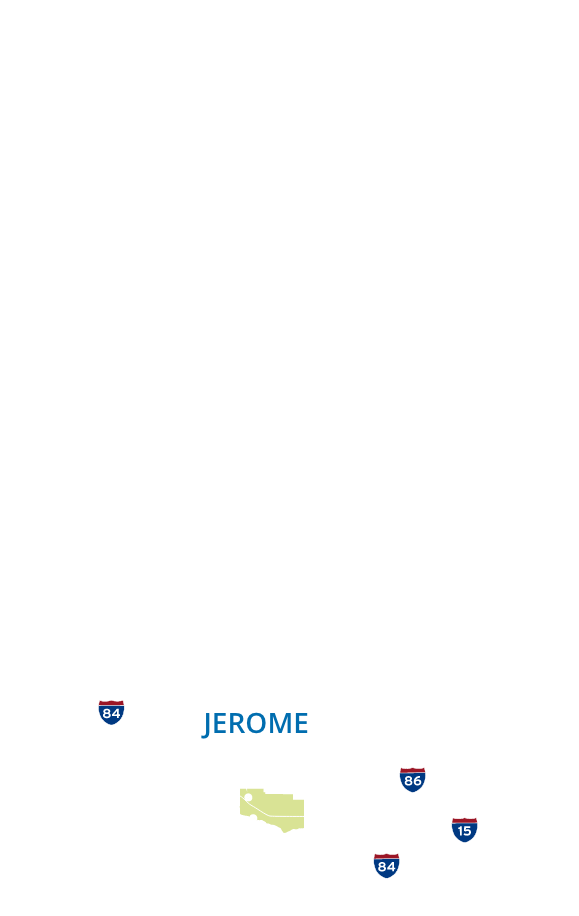 A favorite of trucking and logistics companies.
Here, you'll find Scott Jackson Trucking, Arlo G. Lott Trucking, J&W Trucking, Indian River Transport, Rick Thompson Trucking, Giltner Trucking, Penn Pacific Trucking, the trucking arm of Dairy Farmers of America, WOW Logistics, and more. 

Shovel-ready land to build your vision.
The Jerome area offers more than 500 acres of shovel-ready land so you can launch your next project simply and easily. The Crossroads Point Business Center is the only commercial or light-industrial subdivision in Jerome County that delivers lots to the buyer shovel-ready — complete with site work, power, city water and sewer, natural gas, and fiber optics. Already, companies like Valley Country Store, Watkins Distributing, Rush Trucking, Bish's RV, Comfort Inn & Suites, Intermountain Gas, FedEx, and more have enjoyed tens of thousands in savings by building within this shovel-ready development. Crossroads rolled out 250 acres during Phase I and still has several shovel-ready lots available. Phase II will add another 250 acres.
Fixed-base operations, plus more air routes within range.
Precision Aviation, the fixed-base operation at Jerome County Regional Airport, is just 10 minutes away from Twin Falls and 55 minutes from Ketchum/Sun Valley. It's a very short drive to I-84, making it a perfect location for corporate aircraft and a favorite of dignitaries and state officials. In addition, the Jerome area has access to several additional airports throughout Southern Idaho and northern Utah. 
Rail where you need it.
From Jerome, your organization can access destinations throughout the West by rail. Companies based here rely on shuttle trains, unit trains, and single-rail cars to bring in crucial items like feed and simply ship out products and by-products. The Jerome area is served by short rail on both the north and south sides that connects to major Union Pacific freight rail lines. 
Manufacturing & Food Processing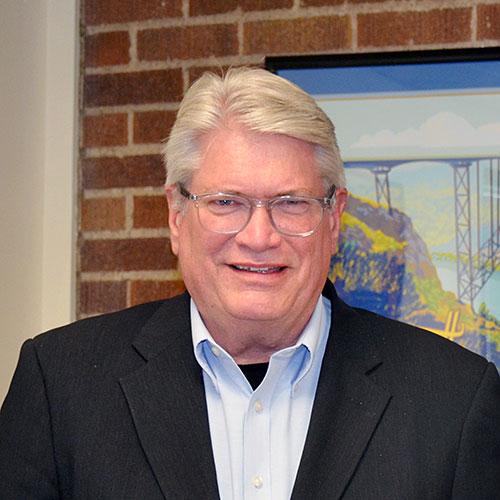 Larry Hall is the Executive Director at Jerome 20/20, Inc. Thanks to the joint effort of private and public partnerships, Jerome is very supportive of economic growth.  The components of Jerome 20/20's economic-development efforts are business retention, expansion, and attraction.  Mr. Hall's experience includes economic development, corporate finance, banking, and business consulting.